Go to the Sessions
Event Details
Call for Papers
Research concerned with sustainability and sustainable development is progressing fast. Simultaneously, activities within industry, government and academia are becoming more globalized. Successful research requires interaction with multiple partners around the world. We are facing an obvious need for new types of communication within our scientific community. Sciforum.net electronic conferences provide a platform for fast exchange of the latest research findings, as well as a possibility for global meetings with no limitations related to traveling.

The World Sustainability Forum 2012 (WSF-2012) will cover timely research topics concerned with sustainability and sustainable development. The conference will include nine topical sessions focusing on:

1. Environmental Sustainability (Section A).
2. Corporate Sustainability Strategy (Section B).
3. Social Values for a Sustainable Economy (Section C).
4. Energy Efficiency and Renewable Energy Sources (Section D).
5. Sustainable Urban Development (Section E).
6. Sustainable Development Policy and Practice (Section F).
7. Sustainable Entrepreneurship and Sustainability Innovation (Section G).
8. Remote Sensing for Sustainable Management of Land and Biodiversity (Section H)
9. General and Related topics (Section I)

This inter- and multi-disciplinary conference aims to examine, explore and critically engage with issues related to recent insights and advances in these topics. In particular, the conference will encourage both theoretical and practical debates surrounding environmental, economical and social contexts for those who want to go beyond the buzzword.

The conference will be completely free of charge―both to attend and for authors to publish―and is sponsored by MDPI and the scientific journal Sustainability. Selected papers will be published in the journal Sustainability.

The 2nd World Sustainability Forum Conference will be held at www.sciforum.net, a new platform developed by MDPI to organize electronic conferences for scholars.



Please submit your abstract with max 2500 character (in English) by September 10, 2012. Abstracts should be submitted online at

https://sciforum.net/conference/wsf2/page/call. All submissions will be reviewed by our scientific committee. For accepted abstracts, a full draft paper should be submitted by October 15, 2012.

Paper Submission Guidelines

For information about the procedure for submission, peer-review, revision and acceptance of conference proceedings papers, please refer to the section "Instruction for authors":

https://sciforum.net/conference/wsf2/page/instructions
Conference Chairs
Instructions for Authors
Submission
Submissions should be done by the authors online by registering with www.sciforum.net, and using the "New Submission" function once logged into system.

1. Scholars interested in participating with the conference can submit their abstract (about 200-300 words covering the areas of manuscripts for the proceedings issue) online on this website until 10 September 2012.
2. The Conference Committee will pre-evaluate, based on the submitted abstract, whether a contribution from the authors of the abstract will be welcome for 2nd World Sustainability Forum.

All authors will be notified by 25 September 2012 about the acceptance of their abstract.

3. If the abstract is accepted for this conference, the author is asked to submit his manuscript, optionally along with a PowerPoint and/or video presentation of his/her paper, until the submission deadline of 15 October 2012.

4. The manuscripts and presentations will be available on https://sciforum.net/conference/wsf2/page/call for discussion and rating during the time of the conference 1 – 30 November 2012.

5. The Open Access Journal Sustainability will publish the proceedings of the conference as a Special Issue. After the conference, the Conference Committee will select manuscripts that may be included for publication in this Special Issue. Five of the manuscripts with the highest scientific quality will be published free of charge following a successful peer-review.
Proceedings Paper
Manuscripts for the proceedings issue must have the following organization:

First page:
Title
Full author names
Affiliations (including full postal address) and authors' e-mail addresses
Abstract
Keywords
Introduction
Methods
Results and Discussion
Conclusions
(Acknowledgements)
References

Manuscripts should be prepared in MS Word or any other word processor and should be converted to the PDF format before submission. The publication format will be PDF. The manuscript should count at least 3 pages (incl. figures, tables and references). There is no page limit on the length, although authors are asked to keep their papers as concise as possible.
Presentation Slides
Authors are encouraged to prepare a presentation in PowerPoint or similar software, to be displayed online along with the Manuscript. Slides, if available, will be displayed directly in the website using Sciforum.net's proprietary slides viewer. Slides can be prepared in exactly the same way as for any traditional conference where research results can be presented. Slides should be converted to the PDF format before submission so that our process can easily and automatically convert them for online displaying.
Video Presentations
Besides their active participation within the forum, authors are also encouraged to submit video presentations. If you are interested in submitting, please contact the conference organizer –
[email protected]
to get to know more about the procedure. This is an unique way of presenting your paper and discuss it with peers from all over the world. Make a difference and join us for this project!
Submission of Manuscripts
Submission: Manuscripts should be submitted online at
https://sciforum.net/conference/wsf2/page/call
by registering and logging in to this website.
Accepted File Formats:
MS Word: Manuscript prepared in MS Word must be converted into a single file before submission. When preparing manuscripts in MS Word, the
World Sustainability Forum Microsoft Word template file
must be used. Please do not insert any graphics (schemes, figures, etc.) into a movable frame which can superimpose the text and make the layout very difficult.
LaTeX: ensure to send a copy of your manuscript as a PDF file also, if you decided to use LaTeX. When preparing manuscripts in LaTeX, please use the MDPI LaTeX template files.
Manuscript Preparation
Paper Format: A4 paper format, the printing area is 17.5 cm x 26.2 cm. The margins should be 1.75 cm on each side of the paper (top, bottom, left, and right sides).
Formatting / Style: The paper style of the Journal Sustainability should be followed. You may download a
template file
to prepare your paper. The full titles and the cited papers must be given. Reference numbers should be placed in square brackets [ ], and placed before the punctuation; for example [4] or [1-3], and all the references should be listed separately and as the last section at the end of the manuscript.
Authors List and Affiliation Format: Authors' full first and last names must be given. Abbreviated middle name can be added. For papers written by various contributors a corresponding author must be designated. The PubMed/MEDLINE format is used for affiliations: complete street address information including city, zip code, state/province, country, and email address should be added. All authors who contributed significantly to the manuscript (including writing a section) should be listed on the first page of the manuscript, below the title of the article. Other parties, who provided only minor contributions, should be listed under Acknowledgments only. A minor contribution might be a discussion with the author, reading through the draft of the manuscript, or performing English corrections.
Figures, Schemes and Tables: Authors are encouraged to prepare figures and schemes in color. Full color graphics will be published free of charge. Figure and schemes must be numbered (Figure 1, Scheme I, Figure 2, Scheme II, etc.) and a explanatory title must be added. Tables should be inserted into the main text, and numbers and titles for all tables supplied. All table columns should have an explanatory heading. Please supply legends for all figures, schemes and tables. The legends should be prepared as a separate paragraph of the main text and placed in the main text before a table, a figure or a scheme.
Potential Conflicts of Interest

It is the authors' responsibility to identify and declare any personal circumstances or interests that may be perceived as inappropriately influencing the representation or interpretation of clinical research. If there is no conflict, please state here "The authors declare no conflict of interest." This should be conveyed in a separate "Conflict of Interest" statement preceding the "Acknowledgments" and "References" sections at the end of the manuscript. Financial support for the study must be fully disclosed under "Acknowledgments" section. It is the authors' responsibility to identify and declare any personal circumstances or interests that may be perceived as inappropriately influencing the representation or interpretation of clinical research. If there is no conflict, please state here "The authors declare no conflict of interest." This should be conveyed in a separate "Conflict of Interest" statement preceding the "Acknowledgments" and "References" sections at the end of the manuscript. Financial support for the study must be fully disclosed under "Acknowledgments" section.
Copyright
MDPI AG, the publisher of the Sciforum.net platform, is an open access publisher. We believe that authors should retain the copyright to their scholarly works. Hence, by submitting a Communication paper to this conference, you retain the copyright of your paper, but you grant MDPI AG the non-exclusive right to publish this paper online on the Sciforum.net platform. This means you can easily submit your paper to any scientific journal at a later stage and transfer the copyright to its publisher (if required by that publisher).
List of accepted submissions (82)
Id
Title
Authors
Presentation
sciforum-002744
"Wolf Wars": Embodiment and Symbolism in North American Wildlife Conservation

E. Bennett Jones

Submitted: 09 Sep 2012

Abstract:

Show Abstract

E. Bennett Jones
N/A
Show Abstract

Wolves (Canis lupus) have long been held as a symbol of the North American wilderness and figure prominently in United States frontier mythology. Currently the legal status of wolves is being hotly contested following their near extermination and then successful reintroduction in the North Rocky Mountain region. The opposing positions on the status of wolves very neatly conform to political party lines, with Democratic Party members supporting the protection of wolves and Republican Party members opposing it. Wolves are recognized on both sides as symbols: for Democrats, the wolf is a positive symbol representing not only environmental wholeness but also the power of positive social programs legislatively; for Republicans, the wolf is negative, representing the destructive influence of outside forces, especially that of the federal government. Because the protection of wolves does in fact require the implementation of legislature, these associations are not without merit. This paper will review existing literature on this subject, extending back to the enactment of the Endangered Species Act in the 1970s', and will contribute new research on the recent developments, including the "delisting" of wolves from the Endangered Species List in August of this year, in order to elucidate the idea that a truly viable plan for animal conservation must be socially sustainable.
sciforum-002767
A Multicriteria System Useful for Evaluating the Eco-performances of Food Packaging Connected to the Functional, Communicative and Design Criteria

Luca Petruccelli

,

Cristina Allione

,

Claudia De Giorgi

,

Beatrice Lerma

Submitted: 09 Sep 2012

Abstract:

Show Abstract

Luca Petruccelli, Cristina Allione, Claudia De Giorgi, Beatrice Lerma
N/A
Show Abstract

The paper is aimed at illustrating a multidisciplinary research, which is funded by the Piedmont Region and involves several research units belonging to different institutions. Within this project, the Research Unit of Industrial Design of DAD (Department of Architecture and Design, Politecnico di Torino) is carried out with the aim of outlining a multicriteria methodology for assessing the level of sustainability of food packaging. Usually packaging sustainability is evaluated by taking into account mainly environmental criteria, with very well-known indicators, such as Carbon Footprint, Embodied Energy, percentage of recycled materials and by forgetting others important aspects, such as functional, communicative and design (Shape, Colours, Material) criteria that have to be satisfy by a food packaging. On these assumptions, the research has been started with the analysis of three case studies: chocolate, alcoholic beverages, meat, representative of the principal agri-food chains in the Piedmont region, in order to identify the evaluation criteria on which outlines the POLIEDRO evaluation system of the packaging. The approach is based on several analysis according to the above mentioned four dimensions of packaging. The assessments are quantitative, such as Carbon Footprint, and qualitative referring to the degree of fulfilment of the various functional and communicative requirements. Moreover the specific analysis of Design is performed by/for assessing the innovation of packaging design. The final result is a set of indicators that shows the packaging sustainability linked to the other criteria in order to highlight mutual relations, e.g. how the improved environmental performance could negatively affect functionality, or how the design innovation could affect sustainability. As a result it will be possible to define a multi-criteria evaluation system, useful not only for assessing the functional, communicative, environmental and design criteria, but also for identifing the weakness of the food packaging that should be improve with a new design.
sciforum-000102
A Segmentation Model for Technological Innovations: The Case of PV in the Netherlands

Veronique Vasseur

Submitted: 17 Sep 2012

Abstract:

Show Abstract

Veronique Vasseur
N/A
Show Abstract

The transition from a fossil-fuel based system to a sustainable energy based system is required in order to counteract environmental problems and achieve a more sustainable future. The multi-level perspective (MLP) and the technological innovation systems (TIS) framework are used as analytical frameworks to describe, understand and analyze the changes associated with technological transitions. In both frameworks the heterogeneity of users is ill-considered. User requirements will differ among users in ways that are unknown to the provider of the innovation, at least initially. Users have functional needs and aspirations as humans. It is important to inquire into the needs, ways of thinking and cultural meaning of products, as they are an integral part of transition processes. Especially in the domain of adoption of sustainable energy technologies there is little scientific research from a user perspective. The adoption of sustainable energy technology is determined from the number of individuals or households that decide to adopt or reject that technology under a specific set of conditions. Instead of looking at what technology can do for people, this research puts user behavior into a daily context as a starting point in order to find out which kinds of people use the technology? Can groups of technology users be recognized that are for example 'green buyers' or \'materialists\'? And what kind of people are they. The preference of individuals for example on climate change gives insight in factors that are likely to determine groups of users. In this research, we use a lifestyle perspective to analyze whether users of PV have similar personal values and lifestyles. We focus on PV as it is one of the most promising low carbon energy sources. While the worldwide application of PV is growing fast the Netherlands is lacking behind. So, the objective of this study is to identify a small number of relatively homogeneous groups of technological users, based on their adoption or rejection of a specific technological innovation. By taken into account different segmentation models of the Dutch population which are used in the building market in the Netherlands, we introduce a segmentation model which can be used for analyzing the diffusion of technological innovations, in particular PV. The introduced model allows us to answer the question whether adopters and non adopters consider the same or different attributes.
sciforum-002584
A Sustainable Cost Benefit Assessment of Wall Assemblies from the US Department of Energy Solar Decathlon 2011

Chelsea Royall

,

James Russell

Submitted: 15 Aug 2012

Abstract:

Show Abstract

Chelsea Royall, James Russell
N/A
Show Abstract

Residential homes consume 24% of total primary energy while commercial buildings use an additional 19%, totaling 43% of all energy consumption in the U.S. (United States Energy Information Administration [USEIA], 2011). Wall assemblies are a fundamental component of a building's construction and can make significant impacts on building performance. Wall assemblies impact the environment, the builder, and the homeowner in various ways. Depending on the assembly method used to construct walls, a builder may find it easier or more difficult to install, and will identify a labor cost accordingly. Homeowners desire a wall with an affordable cost and appropriate thermal performance. Environmental concerns include using rare or readily available materials or avoiding use of materials which require more energy to produce than they offset. Exploring these factors to discover the ideal wall assembly is critical to enhancing building construction and performance. The purpose of this study was to identify optimal wall assemblies from the US Department of Energy Solar Decathlon 2011 using a newly developed Sustainable Cost Benefit Assessment (SCBA). The wall assemblies were analyzed using cost per square foot, clear wall R-value, and embodied energy metrics as a means for comparison. Reviewing the entries to the Solar Decathlon 2011 it is clear that the structures incorporate unique wall assemblies, which have not yet been studied. The results of this study provide data showing which of these wall types may prove to offer the most energy efficient, affordable, and environmentally conscious options. In addition, it contributes data to suggest which methods should not be adopted for widespread use. The conclusions of this study help supply valuable information describing which wall types are the best options for reducing building energy consumption.
sciforum-000267
An Exergy Based Approach to Noise Prevention in Wind Turbines: Concept and Preliminary Assessment

Ofelia Jianu

,

Marc Rosen

,

Greg Naterer

Submitted: 25 Oct 2012

Abstract:

Show Abstract

Ofelia Jianu, Marc Rosen, Greg Naterer
N/A
Show Abstract

Unsustainable human activities and practices are polluting water supplies and emitting to the atmosphere greenhouse gases as well as compounds that erode the earth\'s protective ozone layer. The potential impact on human health and economic costs associated with global warming have motivated scientists and engineers to seek sustainable technologies. One such technology is the wind turbine, which harnesses energy from the wind. However, a significant hindrance preventing the widespread use of wind turbines is the noise they produce. This study examines flow over an object and the consequent noise generation produced by this flow-structure interaction. Flow over a cylinder has been chosen as the benchmark. The aim of this study is to correlate three main characteristic parameters of the system, namely, the generated sound pressure level, the exergy destroyed, and the normal flow velocity). The main motivation for this work is to relate the exergy destruction to the noise generated in the flow to improve understanding and to provide a correlation can be utilized to reduce or minimize the noise of wind turbines.
List of Authors (137)
Ahmad Abdelrahman
Atefeh Amindoust
Deborah Andrews
Carmen Antuña Rozado
Bálint Balázs
Nagaraj Banapurmath
Julija Bistrova
Cornelia Bulucea
Roberto Callarotti Callarotti
Valentina Castellani
Lucia Ceccherini Nelli
Monika Culakova
Tiberio Daddi
Carmen Dienst
Justin Dunnavant
Wael Fahmi
Matthias Finkbeiner
Gideon Gal
Antonio García-Olivares
Ahjond Garmestani
Ineta Geipele
Olivia Green
Proceedings & Editors
Conference Chair


Marc A. Rosen
Section Chairs
Terence J. Centner
Michael J. Heckenberger
Christopher Koroneos
Jesus Martinez-Frias
Sharon Megdal
Daniele Riccio
Miklas Scholz
Judith Tisdall
John P. Ulhøi



Production Editors


Julio A. Seijas
M. Pilar Vázquez Tato



CD-ROM edition


ISBN: 3-906980-28-6
Published in 2013 by MDPI, Basel, Switzerland
©2013 by MDPI, Basel, Switzerland



Rates for CD-ROM archive edition


CHF 100 before the conference
CHF 150 after the conference
CHF 250 per year for non-participants and for institutions


Please place the order by e-mail:
Billing
Chair of the 2nd World Sustainability Forum
Prof. Dr. Marc A. Rosen


University of Ontario
Institute of Technology (Oshawa, Canada)
Editor-in-Chief of the Journal Sustainability
Scientific Advisory Committee
Dr. Philipp Aerni, ETH Zürich, Zurich, Switzerland
Dr. Kenneth Aizawa, Centenary College of Louisiana, Shreveport, USA
Prof. Dr. Devrim Akca, Isik University, Istanbul, Turkey
Prof. Dr. Sanjai Bhagat, University of Colorado, Boulder, USA
Dr. Ni-Bin Chang, University of Central Florida, Orlando, FL, USA
Prof. Dr. Terence J. Centner, University of Georgia, Athens, USA
Dr. Brian Deal, University of Illinois at Urbana-Champaign, Champaign, USA
Prof. Dr. Alexandra Drizo, CEO PhosphoReduc LLC & University of Vermont, Burlington, USA
Prof. Dr. Michael J. Falkowski, Michigan Technological University, Houghton, USA
Prof. Dr. Matthias Finkbeiner, Technical Universität Berlin, Berlin, Germany
Prof. Dr. Jesus Martinez-Frias, CSIC-INTA, Madrid, Spain
Dr. Timothy R. Green, USDA-ARS, Agricultural Systems Research Unit, Fort Collins, USA
Dr. David I Gustafson, Monsanto Senior Fellow & Interim Director, International Life Sciences Institute, Washington, USA
Prof. Dr. Charles A.S. Hall, State University of New York, Syracuse, USA
Prof. Dr Michael J. Heckenberger, University of Florida, Gainesville, USA
Dr. Jorge Herkovits, National Council of Science and Technology, Buenos Aires, Argentina
Dr. Rainer Hofmann, Lincoln University, Lincoln, New Zealand
Dr. Meg Holden, Simon Fraser University, Vancouver, Canada
Dr. Monzur A. Imteaz, Swinburne University of Technology, Melbourne, Australia
Prof. Dr. John L Innes, University of British Columbia , Vancouver, Canada
Dr. William T. Jackson, University of South Florida, St. Petersburg, USA
Prof. Dr. Daniel M. Kammen, University of California, Berkeley, USA
Dr. Alexander Kokhanovsky, University of Bremen, Bremen, Germany
Prof. Christopher Koroneos, Aristotle University of Thessaloniki, Thessaloniki, Greece
Prof. Dr. Robert W. Marans, University of Michigan, Ann Arbor, USA
Dr. Ingrid M. Martin, California State University -Long Beach, Long Beach, USA
Dr. Sharon B. Megdal, University of Arizona, Tucson, USA
Dr. Gonzalo Pajares, University Complutense of Madrid, Madrid, Spain
Prof. Paul Phillips, University of Northampton, Northampton, United Kingdom
Dr. Pallav Purohit, International Institute for Applied Systems Analysis (IIASA), Laxenburg, Austria
Prof. Daniele Riccio, University of Napoli Federico II, Napoli, Italy
Dr. Duccio Rocchini, Edmund Mach Foundation, IASMA Research and Innovation Centre, S. Michele all'Adige, Italy
Prof. Dr . Miklas Scholz, University of Salford, England, United Kingdom & Editor-in-Chief of the journal of Water
Dr. Alistair Smith, University of Idaho, Moscow, USA
Dr. Delyse Springett, Massey University, Palmerston North, New Zealand
Dr. Salvatore Stramondo, Istituto Nazionale di Geofisica e Vulcanologia, Rome, Italy
Dr. Judy Tisdall, La Trobe University, Melbourne, Australia
Prof. Dr. John Parm Ulhøi, Aarhus University, Aarhus, Denmark
Dr. Paul Upham, University of Leeds, Leeds, United Kingdom
Dr. Frank Witlox, Ghent University, Ghent, Belgium
Prof. Dr. Tetsuji Yamada, Rutgers University, New Jersey, USA
Organizing Committee
Dr. Shu-Kun Lin (Basel, Switzerland)
Dr. Brietta Pike (Basel, Switzerland)
Mr. Thomas Schurter (Basel, Switzerland)
List of Keynotes & Videos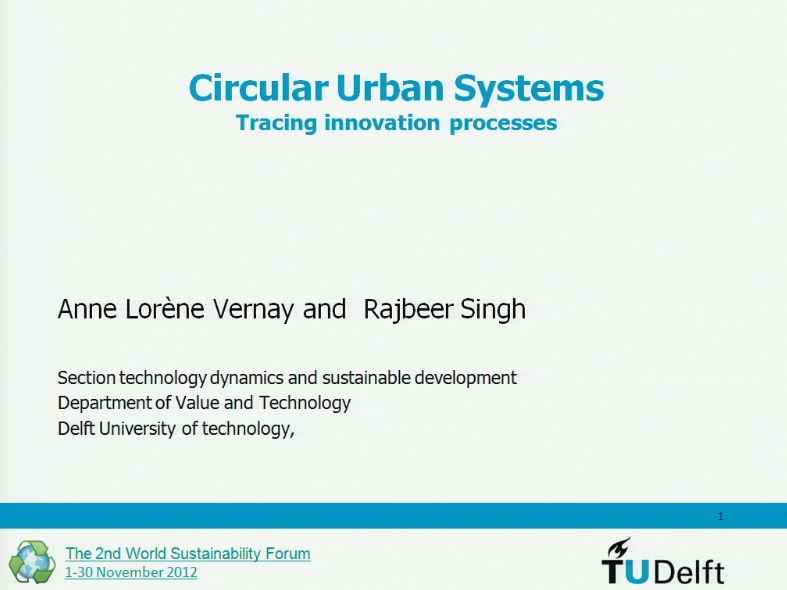 This video is an addendum to the paper "Circular Urban Systems: tracing innovation processes" submitted to section E: Sustainable Urban Development and prepared by Anne-Lorène Vernay and Rajbeer Singh.
This video contains a Keynote Presentation for the 2nd World Sustainability Forum, prepared by our Chairman Prof. Dr. Marc Rosen from the Institute of Technology of the University of Ontario, Canada.
This video is an addendum to the paper "Industry location assessment for multinational enterprises in Latvia" submitted to section E: Sustainable Urban Development and prepared by Tatjana Staube and Ineta Geipele.